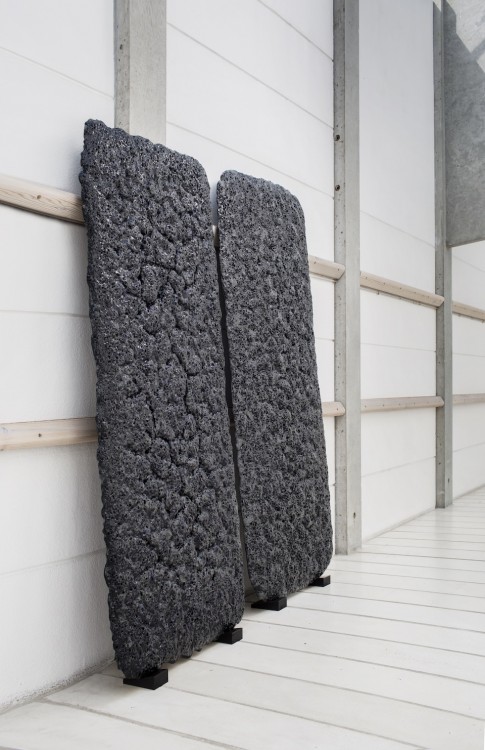 Now & Here, exhibition view Bagsværd Church. (2017)
All is Flux #7, All is Flux #8
198 x 98 x 5 cm. , 195 x 95 x 5 cm. The two objects consist entirely of four different glazes.
Photo: Benita Marcussen.
All is Flux #7 and  #8 was originally created for a site-specific exhibition in the iconic Bagsværd Church, designed by Jørn Utzon.
 Conventionally, the glaze, even in large sculptures, is merely a thin coating. Here, it takes on a physical format that is larger than the human body. At the same time, in an almost dizzying  dual perspective, the texture also gives the impression of a detail that has been blown up or of something seen through a microscope.
Viewed from a distance the objects appear identical, but seen up close, one is tending towards black, while the other is approaching a dark cobalt blue. The objects appear texturally complex and open to multiple interpretations: at first glance, the blackish blue, dramatically boiled textures evoke associations to lava and volcanic landscapes, but a second look reveals a glossy sheen in the glazes closer to plastic or oil, and in the fields of black there flows a cobalt blue – a colour with a long tradition in the porcelain industry.
Bagsværd Church is a fine example of Utzon's exploration of the possibilities of modular concrete construction. The gallery is designed as a strictly modular system of concrete elements, whose dimensions are repeated in the two glaze objects. However, while the gallery has a stable materiality and is dominated by straight lines, the glaze objects by contrast, appear dissolved and organic. The dark cobalt blue glazes also link the objects to the building, referencing the cobalt blue tiles used as decorative cladding on edges in the church.
.